Davis
Korean
Church
Portal
Please choose the Davis Korean Church site you would like to visit:
Welcome to DKC Korean Ministry
HAN GUEL SITE AVAILABLE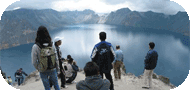 Missions Ministry
Our church was founded on the Mission Field, as nine UC Davis graduate students began meeting together and soon thereafter our church was established. DKC has a long history of supporting missions both financially and through our actions. We continue to be committed to supporting missions and comissioning missionaries.